In January 2016, tens of thousands of Brisbane home owners woke up to find a swarm of winged bugs gathered at their doors. Brisbane was under siege by flying termites – also known as winged termites. Flying termites swarms were being reported in the Ipswich corridor, Logan area and south Brisbane regions.
Given the right weather conditions, this kind of termite swarm can happen again. If you wake up to a pile of termites, or a pile of wings, here's what you need to know.
How to identify flying termites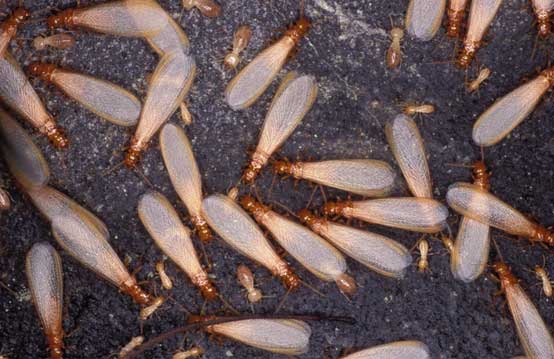 Image courtesy of Museum Victoria
Flying termites swarm in large numbers and may be confused with flying ants or other bugs.  Termites are actually more like cockroaches than ants (just to make this situation worse!)  Flying termites have long, straight wings of equal length, straight abdomens (not segmented like an ant) and straight antennae.  They are a light tan to brown colour.
They are most commonly found swarming after rain. These termites are "A'Lates" and their role is to seek out a new home.  They fly no more than 100 meters from an existing nest, so if you've been hit by a flying termite swarm, there's a good chance it originated in your street.  After the recent rain, it's the perfect time for them to spread out!
What can you do about a flying termite swarm?
The best thing you can do is to make sure that your home has the appropriate protection from termite infestation.  At your pre-purchase property inspection, your inspector would have checked for termite/ant caps, meshes, gravel crush and other physical barriers to protect your house from a termite invasion.  They're not 100% termite proof and termites can enter your home via various concealed entry points eg cracks within concrete slabs or garden beds against the house etc.  If you have any concerns, it's best to get a termite inspection carried out straight away.  This may involve adding an extra "chemical barrier" to ensure that houses under siege from termite infestations are better protected.  We can recommend a 100% trusted and reliable termite inspector to come to your Brisbane home fast.