As part of your comprehensive pre-purchase inspection, Brisbane locals, Action property Inspections, conducts detailed underfloor inspections.
The underfloor area is where the house is supported, making it a vital stage in the inspection process.  Components such as stumps, retaining and foundation walls, and tie downs are important sections of the underfloor inspection as they are vital to the structural integrity of the building.  Problems with your new home's foundations are the single biggest risk to your blue chip investment turning out to be a lemon.
How do our building inspection reports compare to reports from our competitors? Our detailed reports, including photos and layman's explanations give you 100% peace of mind.  And if there's a problem?  Our pre-purchase building inspection reports (see a sample report) are your best weapon in reducing your purchase price, or getting out of a bad contract.  Don't you want that kind of security?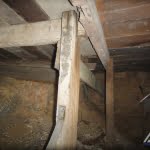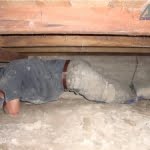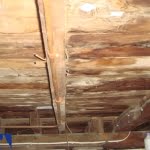 Underfloor Building Inspections
Here's what we'll check as part of our comprehensive pre-purchase building inspection.
Supports
Stumps
Spalling damage
Decay
Settlement
Lateral movement
Tie Downs
Inadequate or missing tie downs
Rusting strapping
Cyclone rods
Termite Barriers
Ant Caps
Breached and incorrectly installed termite barriers
Conducive termite conditions
Bearers and Joists
Undersized timber sections
Excessive deflection
Incorrect connections
Foundation Walls
Tanking barrier failure
Separating or inadequate engaged piers
Cracking
Retaining Walls
Cracking
Decay
Subterranean drainage
Outward movement
Flooring
Broken boards
Borer damage
Loose boards
Decay
Decaying bearer connections
Delignification
Showerflashing decay
Concrete Slab
Cracking
Slab edge moisture penetration
A solid property investment rests on solid foundations.  Don't risk an inferior Brisbane building inspector.  Trust our comprehensive reports, award winning service and decades of experience.  We're 100% independent and 100% on your side.