Buying in Inner Brisbane? Read this first!
Are you dreaming of buying a beautiful new home in inner Brisbane? You need a pre-purchase property inspection! 
Building inspections in central Brisbane are an essential step for anyone considering buying in the area. As we've seen numerous times over the past few years, the Brisbane River is very prone to flooding, and the city itself is susceptible to storms and bushfires. It's important to have all the information (good and bad) about a potential property before you finalise the purchase.  
Read on to find out more about why central Brisbane is the best place in south east Queensland to call home. 
All about Central Brisbane!
If almost perfect weather, a laid-back lifestyle, and world-class universities have enticed you to buy your next property in Brisbane, then you need to seriously consider making one of the inner-city suburbs your new home.  
Inner city Brisbane, including the Brisbane CBD, is intersected by the Brisbane River, and is made up of 18 suburbs including New Farm, Fortitude Valley, South Bank, Kangaroo Point, West End, and South Bank.  
Currently 292,245 people call inner city Brisbane home. The area is densely concentrated with skyscrapers, commercial buildings and office blocks, apartment blocks, and heritage buildings. It is dotted with several parks including the Roma Street parklands and the City Botanic Gardens, and several squares, including King George Square and ANZAC Square.  
The city has been undergoing significant development over the past few years in preparation for the Olympics in 2032, and both house prices and demand have risen considerably.  Inner Brisbane is always developing and this can offer great value but also large amounts of construction and traffic disruptions.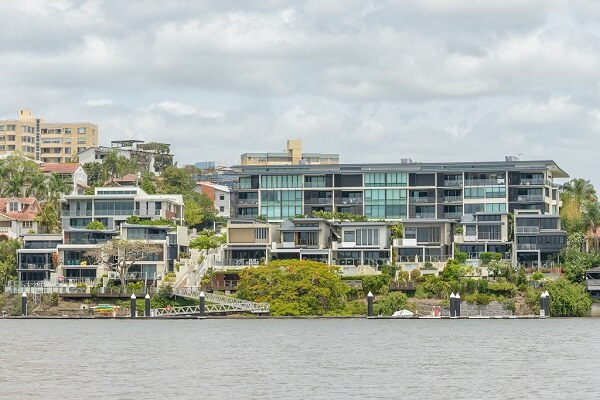 Within the entire city, inner Brisbane has the highest average house prices – you're looking at 1.14 million, compared with just $636,000 in the southern suburbs. This is one reason why there is a huge market for units compared with houses. The turnover isn't as high as it was previously, with students vacating the city and young professionals and families moving in. Unit prices are still rising, making the market very attractive – average prices for units are just $679,966.  
Central Brisbane is very popular among young professionals, with the median age being just 34. Inner city Brisbane is obviously an attractive place to live for young people, being the centre of culture, nightlife, shopping, and an easy commute to work. The centre of the city is also the central hub for all public transport, which makes day tripping to the Gold or Sunshine Coasts on the weekends very easy.  
When it comes to shopping, inner-city Brisbane has everything you could possibly need. The Queen Street Mall is where you'll find most shopping opportunities, as well as on Adelaide, Albert, Edward, and Elizabeth streets.  
What do building inspections in Brisbane City cover?


Take a look here
.
Standout Inner Brisbane suburbs
Brisbane City
The very heart of Brisbane, the CBD is one of the most sought after places to live in Brisbane. Over 1.2 million tourists visit per year, which just goes to show that Brisbane has much to offer in terms of culture and lifestyle. The median house price in Brisbane city is $500,000, and the average weekly rent is $500, with property owners potentially earning 5.2% in gross rental yield.  
South Bank
After the radical urban renewal that followed Expo '88, South Bank has become the heart and soul of Brisbane's cultural precinct. If you want to see a musical, a comedy gig, or visit a museum or art gallery, South Bank is your place. The median house price here is $1,252,500 for houses, and $485,000 for units. 
Paddington
Paddington is synonymous with shady streets and lattice-fronted Queenslander-style homes. If you would love a piece of this inner-city Brisbane paradise, you're looking at an average price of $1,778,750 for houses and $640,000 for units.  
The challenges with living in inner city Brisbane
Brisbane city is prone to extreme flooding, as well as drainage issues, pests such as termites, and huge summer storms. Protect your investment by booking a pre-purchase property inspection. Action Property Inspections are the building inspectors Inner Brisbane property buyers have come to rely on. Professional, thorough, and based on excellent local knowledge, our building inspector will assess your property and provide a detailed report that gives you all the information you need before small issues do serious damage to your dream home and your wallet.  
While Action Property Inspections do not offer pest inspections, we can recommend experts who will.  
Take a closer look at more Brisbane Central Suburbs
Find a Building Inspector Near You
Building Inspections Brisbane Southside |  Building Inspections Ipswich | Building Inspections Logan | Building Inspections Moreton Bay Region | Building Inspections Redlands | Building Inspections West Brisbane |  Building Inspections Inner Suburbs | Building Inspections Brisbane
See our suburb specific guides here: