Pros and Cons of Being Present When You Inspect My Home
You've found the perfect house and you want to make it your new home. But before you start packing boxes and imagining yourself making a life there, it's important to organise a pre-purchase house inspection. One of the first questions purchasers will ask a building inspector is 'Should I be there when you inspect my home?' It's a great question. Let's explore the pros and cons of being present.
Why do I need a pre-purchase inspection?
Building inspections are as important as insurance. You can cross your fingers that your potential new home is built to the correct codes and standards, and has no pre-existing damage, or you can pay an expert to take a look below the surface and put every detail of the building's condition in writing.
If your inspection report shows termite activity, illegal renovations or ancient water damage, you can either enter into the contract with full knowledge of what's ahead, or use the information as a bargaining tool. Getting the inspection done right is a matter of choosing a reputable building inspection company that prides itself on offering thorough inspections, with detailed reports. Once you've chosen your inspector, you can then choose to attend the inspection yourself, or let them carry it out and forward you the report for consideration.
Do I have to attend the inspection?
No, you don't have to. If you are time poor you might be happy to let your chosen inspector discuss their findings with you after the inspection. If you would like to be more 'hands on' with the process, you are welcome to attend – but there are certain restrictions around access.
First up, it's important to understand your rights as a purchaser. When a building inspection is organised, the potential owner doesn't OWN the home yet. You may have put in an offer, but you are not the owner of that home until the sale goes unconditional and the finances have settled. For this reason, you and your building inspector will have to request access at a time convenient to the seller, and ask permission for you to be present.
If no one lives in the home, permission and access will be easily granted. But if the home is occupied, you will need to liaise carefully with all parties, potentially including tenants or tradespeople, to get permission to access the property. In most cases, if a seller is keen to get their property sold, they'll be happy to oblige.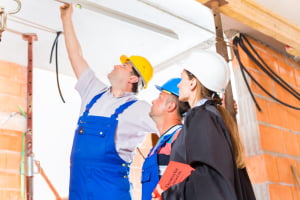 The pros of attending a building and pest inspection
Once you have the access and authorisation for a building inspector to be onsite, you can acquaint yourself with the areas of the home the building inspector checks. If you've engaged with a qualified and well-experienced building inspector, being present during the inspection won't be to check on the building inspector, but to make visual reference to what will be stated on the report.
Being present during the building inspection gives you another opportunity to inspect the house for yourself, and get accustomed to the space. You might notice small imperfections that you can plan to change when you move into the new property, like paint or curtains. There may also be more major concerns that you may not have noticed during the first inspection.
Your building inspector will be able to let you know whether these concerns are valid or a normal part of wear and tear on a building. If a property is older, it will be expected to see cracks from movement, but your building inspector will be able to give an indication on the severity of the problem. This is why it's important to choose a reputable building inspection service who really understands the type of property you're investing in – new builds come with different concerns from older properties. A bigger outlay at this stage of the purchasing process could save you thousands in unexpected repairs down the track.
If you attend the inspection, you'll have the chance for your inspector to show you specific defects onsite so you can see them with your own eyes. This can help you decide on whether to negotiate on the price submitted to purchase the property, or to remove your offer altogether.
The cons of attending a building and pest inspection
On the con side of attending a building and pest inspection is the time cost, which can be a big ask when you're also busy organising finances, legal paperwork and moving plans. Some people also feel uncomfortable meeting the seller in person, preferring to deal with their purchase via their legal team.
The only other 'con' is coming face to face with the flaws in your potential new home. Some people do find it disappointing to watch their dream home picked to pieces by an inspector, but overall most people agree that it's better to be fully informed.
Should a seller be present at the building inspection?
A pre-purchase house inspection can often be a daunting procedure for a seller, too. What if the inspector finds something not satisfactory? How will that affect the sale? There may be no cause for concern, but it can be very uncomfortable to watch a buyer and inspector dissect and critique your home. If you identify yourself as the seller, you might equally be asking 'should I be present when the building inspector comes to inspect my home?'
Generally, you will need to be home to give the building inspector access to your property. All rooms, including garages and storage spaces, should be unlocked for the building inspector to access. There is no need to follow the inspector around, and purchasers can find it intimidating to have the seller present. What's more, an inspector needs space to photograph, test and record their findings. A good inspector will want to do a thorough inspection for both the seller and buyer. They know that their report can affect a seller in selling their home, and it may prevent a buyer from attaining their dream home, so they will do their job professionally and honestly.
Find an inspector that does a thorough job
Action Property Inspections pride themselves on conducting a thorough inspection on buildings to ensure there are no surprises when the property is acquired. We encourage you to be present during the inspection process to witness the methodical, attention-to-detail way the assessment is conducted. Once you view our process, Action Property Inspections will be your first call every time you ask 'who should I call to inspect my home?'
If your building inspection is completed in ten minutes, you've hired the wrong inspector! If you're a looking for a comprehensive building inspection, contact Action Property Inspections. Our inspections are thorough, and our reports give both the buyer and seller peace of mind about the property that is to be acquired.
Asking the question 'Do I need to be present when you inspect my home?' Contact the team at Action Property Inspections for more information about the inspection process.