You have finally found the perfect house, or have you? As they say, out of sight and out of mind. This is often the case with retaining walls, particularly boundary retaining walls. Even moderate retaining wall cracking and movement could rule out a potential property purchase even if the actual house is in great condition.
This is unfortunately a very common scenario. Deteriorating retaining walls can lead to contained earth slippage and subsidence which can often have a direct impact on the structural integrity of a house and surrounding infrastructure. The deterioration of retaining walls is caused by a variety of factors. In some cases it is due to poor initial construction whilst other factors such as tree root activity, inadequate retaining wall drainage, termite activity or general old age deterioration can all contribute to the demise of a retaining wall.
Retaining wall materials
Depending on what a retaining wall has been constructed out of will impact on the longevity of the wall. A correctly constructed concrete and steel reinforced block retaining wall will last significantly longer than a timber sleeper retaining wall. This is one of the factors that should be considered during construction. If it is only a small garden retaining wall then sleepers will be fine however, if you are talking about a 2 meter high retaining wall holding up the rear of an allotment then you are certainly going to want something more significant such as a reinforced concrete block retaining wall.
Poor construction practices
When it comes to poor construction some of the most common factors for retaining wall collapse is inadequate footing design. An undersized or inadequate concrete footing can contribute to subsidence and a range of other issues. Another common problem is inadequate drainage behind the retaining wall. A build up of moisture can lead to very heavy wet soil placing extreme lateral forces on the retaining contributing to outward movement and possible wall collapse. It is imperative that adequate correctly installed drainage is incorporated behind a retaining wall. Also remember that all retaining walls greater than 1 meter in height will require engineer evaluation and approval.
Surrounding trees
Whilst it may be nice to have some big beautiful trees on your allotment it could be at the detriment of your retaining walls. Large trees in close proximity to retaining walls often contribute to wall deterioration due to immense tree root pressure placed upon the retaining walls contributing to cracking or wall movement. The removal of some large trees may be an additional cost you may need to consider when purchasing a property.
Termite activity
Most people undertake regular pest inspections to make sure termites aren't devouring their house. It is equally important to ensure that termites are also not causing structural damage to sleeper retaining walls. In addition, termite activity in a retaining wall in close proximity to a house could contribute to termites eventually discovering the house.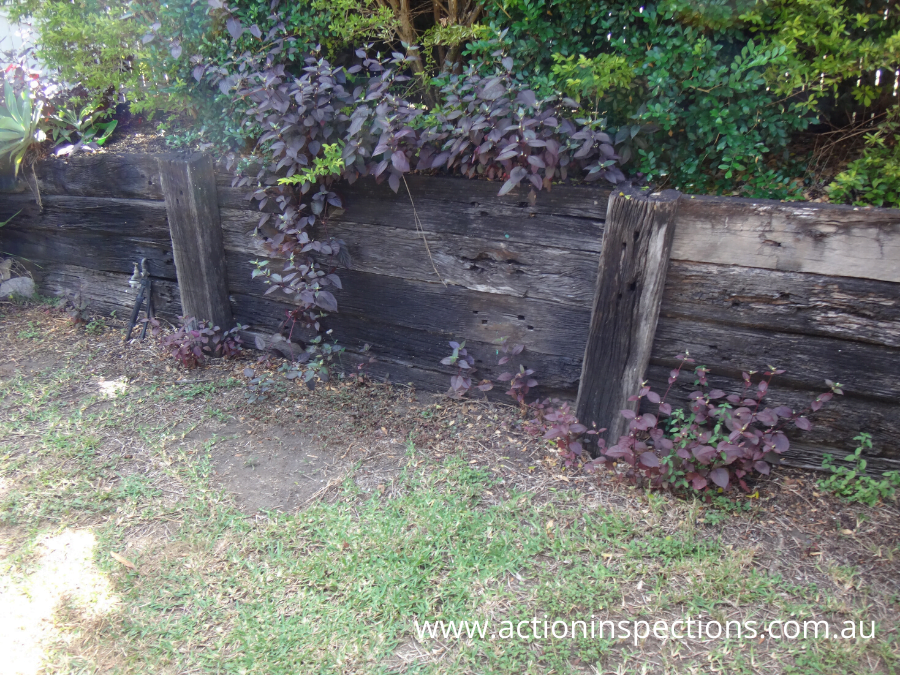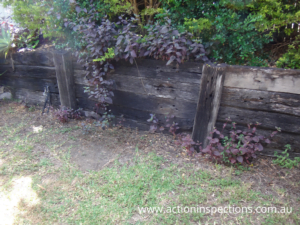 These are just some of the factors that could substantially impact the longevity of a retaining wall.Retaining walls, particularly boundary retaining walls can be extremely costly to replace. On a recent Brisbane building inspection undertaken in the suburb of Brookfield, the cost to replace two large block retaining walls on two opposite boundaries was in excess of $75,000. Subsequently the purchaser was no longer interested in this particular property despite the fact that the actual house was generally in very good condition.
Whoever you engage to undertake your building inspection make sure they pay particular attention to the retaining walls.
Contact Action Property Inspections to book your Building and Pest Inspections Brisbane.