A building inspector is one of the first occupations to notice a problem with a property before a trade is called out to fix the issue. Building inspectors are trained professionals who know what to look for when inspecting a property for faults and defects. A pre-purchase building inspection will always give you peace of mind when purchasing a new home and a good building inspector will never take your business for granted. Their professionalism is at stake if you as the consumer find they've overlooked a vital issue with a property.
A building inspector, in turn, understands the importance of giving a potential new home owner sound advice about their big investment. There is a lot of pressure on building inspectors to ensure they do a thorough inspection because if faults are found after they have passed a property, this can affect their testimonials and their bottom line. A potential buyer has to have confidence in their building inspector to ensure they will get a thorough inspection and detailed report.
A building inspector may linger longer in certain areas of a house as they will need proper investigation. A building inspector understands how important it is to not miss anything in these vital areas as they can cost a new owner thousands of dollars to fix, plus the inconvenience of engaging with trades to fix the issues. It's important that if there is an issue on a property, it is found by a building inspector and is identified before the sale of the property becomes unconditional. A building inspector's worst nightmare is missing a vital issue and giving the all clear to a potential buyer, who has potentially purchased a lemon.
HORROR STORIES OF THE BUILDING INSPECTOR
While building inspectors will report on minor faults on a property, there are some horror stories, shared from building inspectors around the world that are guaranteed to convince you of the importance of a building inspection.
We've found five horror stories from building inspectors who have shared online the worst properties they have seen in their time as professional building inspectors.
1. Termite infestation
Nearly every building inspector will tell you a termite infestation horror story. It's one of the most common defects in houses. Termites will invade a home that is subject to moisture and they can cause severe damage to a home. The damage bill can be in the tens of thousands of dollars. Pest-Ex completed 1900 termite inspections last year and they have seen a hike in termite infestations.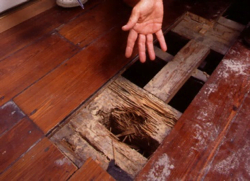 The average cost for termite repairs in 2016 was between $8,000-$10,000. The issue is not necessarily the timber that needs to be replaced, but it's the room in which the timber had to be replaced that causes the most expense. Termites will gravitate to the bathroom areas as they can harbor moisture, which is the ideal environment for the termites to thrive. If you've purchased a home that has been invaded by termites, you can request the owners of the home rectify the issue before the sale goes unconditional OR negotiate a drop in the house price.
Termite photo http://www.pestcontrolservicesforlife.com/tag/termite-control/
2. Inadequate support
A building inspector will look at structural damage and support to a property. Inadequate support is a building defect that must be reported and rectified before a house is purchased unconditionally. This horror story inspection of two sticks supporting a floor was eye opening for North East Independent Property Inspections. It was to be a routine pre-purchase inspection for a Melbourne client and during the inspection, the building inspector noticed the floors were 'springy' in every room.
When the building inspector gained access to inspect the floor from below, they found inadequate floor framing and the bouncy floors were being supported by sticks.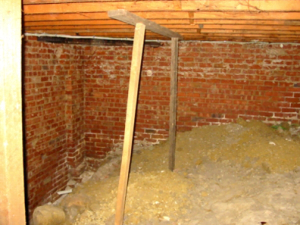 The contract for the sale of the house was cancelled as the building inspector found the floors weren't structurally sound. It would have cost the new owners around $25,000 to fix the floors. They declined the house.
3. Duct tape plumbing
Plumbing is always a major area of a building inspection. Plumbing is a licensed trade so all plumbing installations must be to code and installed by a licensed plumber. North East Independent Property Inspections made a startling discovery on one house when he noticed a water splashing sound under the floor when the taps were turned on at the bath.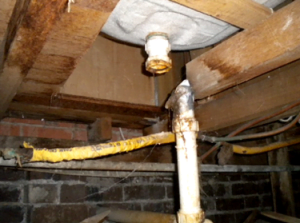 The inspector found underneath the bathroom, that the pipes had been connected with duct tape and hadn't been properly put together. The bath water was running straight onto the ground underneath and had been doing so for over 12 months.
4. Mould infestations
Lars Knobloch is the owner of Nordic Home Inspection, which conducts building inspections for buyers and sellers. One of the worst properties the inspector went to visit was a house that required a mould test. Knobloch didn't have to look too hard to notice that mould grew from the walls and ceilings and reached down to him as he walked through the house. The ceiling fans were drooped like flower petals from the weight of the black-blotched blades. Knobloch describes the property as being a penicillin factory.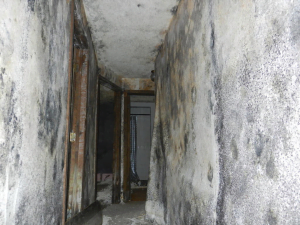 "That probably was the worst house I ever walked into," Knobloch said. "I talked to a neighbour and he said that when the wind was in the right direction, they could smell the mould from that house." Eew!!
5. Roof problems
Plumbing is always a key area of building inspections. Dean Foell operated Tri State Home Inspection service in Fargo and has 16 years of experience. The building inspector estimates he's inspected around 8,500 homes.
Some of the worst inspections he's done have involved finding plumbing stacks haven't been extended through to the roof. Instead, the vents were capped in the attic which would cause the plumbing system to falter.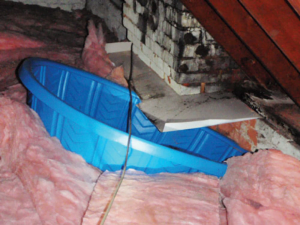 Foell has found kids paddling pools used to collect water from the roof and has found "dead cats where there shouldn't be dead cats."
When You Think You've Seen It All…
Building Inspectors have seen it all and when they think they've seen it all, a new property inspection will prove them otherwise.
To ensure the property you are purchasing is a viable and sound investment, please contact Action Property Inspections to book an inspection today. The inspection report will give you peace-of-mind knowing the property you're buying won't incur thousands of dollars in repairs. Contact the team by booking an inspection online or calling us today. Don't risk your next investment.