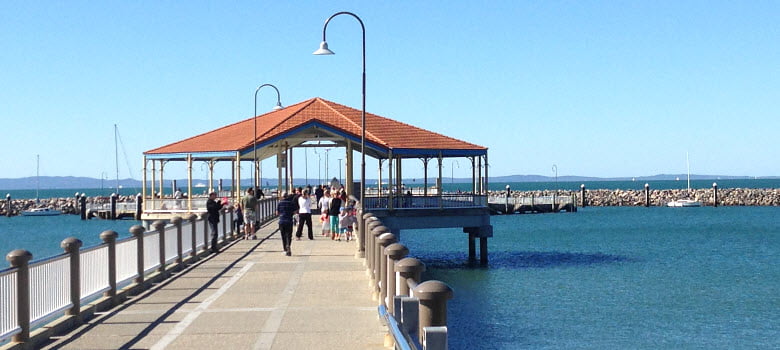 Redcliffe is a fantastic location for a potential home-buyer – 30 minutes north of Brisbane and 45 minutes south of the Sunshine Coast, it's a sleepy seaside suburb of Moreton Bay with so much to offer! Thinking of buying? Make sure you book a pre-purchase property inspection. Redcliffe is a city in demand!
Why choose Redcliffe?
Traditionally more affordable than similar suburbs on the south side or on the Sunshine Coast itself, Redcliffe offers stunning bayside views, excellent shopping and restaurant districts, and fabulous history – stroll along the famous Redcliffe Pier and take in Bee Gee Way, and you'll know you've picked a winner!
With a mix of beautiful canal mansions, old Queenslander-style wooden houses, modern unit complexes and affordable brick bungalows, Redcliffe is a suburb that has long attracted home owners from Brisbane city looking for a sea-change. Originally a quaint seaside destination for holiday makers and day trippers from Brisbane, Redcliffe's easy 30 minute commute by car or train makes it a fantastic place for families and young people.
Check out Peninsula Fair with its fabulous cinema and mix of restaurants, chain retail outlets and boutique shopping opportunities. Or stroll along the iconic Redcliffe seaside and discover fabulous seafood, Greek, Italian or even Mexican restaurants. There's something to suit every visitor or potential homeowner. And the real estate market reflects this.
With a population of 9,201, a median house price of $440,000 and a median weekly rent of $375 a week, Redcliffe is a city on the move. Prices are steady, making Redcliffe attractive for families. The average age of its residents is 46, indicating that the trend of retirees flocking to the suburb is well in the past. With such affordable prices, this is one place you definitely need to secure your pre-purchase property inspection. Redcliffe properties are in demand but it's still crucial to carry out the necessary checks before buying!
Book your pre-purchase property inspection. Redcliffe is calling!
Will the home you're dreaming about in Redcliffe be money well spent? Booking in your pre-purchase property inspection is the best way to be aware of any potential disasters before you commit to buying. Redcliffe is a wonderful place for families and a great place to call home – and with a property and building inspection, you can make sure you pick the right house!
Protect your investment with a pre-purchase property inspection. Redcliffe living is yours for the taking! Contact Action Property Inspections today.