Our Building Inspections in Brisbane Have Received 300+ 5 Star Google Reviews – Here's Why!
Andrew Mackintosh is the most highly recommended building inspector Brisbane has seen for three decades. His reputation for thorough building inspections makes sellers and their agents nervous. That's because Andrew is a 100% independent inspector, working only for you, the property buyer. So what can you expect from an API building inspection that you won't get from a typical building and pest inspection company in your service area? 
Professional Building Inspection Services Protect Your Investment
Andrew is a qualified builder who holds a QBCC Builder's Licence (Unrestricted) and a QBCC Completed Residential Building Inspection Certification.  
He's a full member of the Master Builders Association and the Institute of Building Consultants.  
Action Property Inspections is fully insured and operates according to the Master Builders Association Code of Conduct. Most importantly for our clients, we provide an award-winning service every time.  
Leisa Mackintosh provides professional and efficient customer service. As a family run business, both Andrew and Leisa are invested in customer satisfaction. We're not a franchise. We are 100% independent. So no matter where you're buying a property in Brisbane, you'll always have Andrew as your inspector. 
How Andrew built his reputation for excellence
Andrew has been in the building industry since 1983 and started his award-winning property inspection service in 1994. He is a building inspector – not a pest expert. So Andrew offers building inspections only. Building inspections that you can bet your financial future on! To ensure you have comprehensive pre purchase building and pest reports, Action Property Inspections can co-ordinate a specialised pest inspector to carry out the pest inspection at the same time as the building inspection and provide your pest inspection report separately. 
Buying a property is too important for you to rely on a "jack of all trades," so, unlike other building and pest inspectors, Andrew focuses solely on delivering the best building inspection reports Brisbane has to offer. 
Award Winning, Five Star Reviewed Inspections
What can you expect from your building inspection
Andrew believes in the involvement of his clients. Although it's not essential, there is no reason why you cannot attend the building inspection, too. In fact, it is encouraged because often, at an open inspection, there are other people there, too. This is a perfect opportunity for you, as Andrew's client, to take your time and have another look around the property. This may be your last chance before purchase or final offer.  
An overview of our inspection service
When you arrive at the building inspection, Andrew will greet you and introduce himself. We are Brisbane based building inspectors that are independent of all real estate agents, and work for you, the purchaser. We aim to provide building inspection services that allow you to make an informed decision because we have your best interests in mind. 
Andrew will then ask you if you have any questions. This is the time to raise any specific concerns you have. He'll then run you through what he'll be looking for during the high-quality inspection. A thorough inspection will begin, with Andrew reporting on the house's condition and making sure there are no glaring issues. The house will be assessed for compliance with current building and construction Australian Standards.  
All the information collected during the inspection will be delivered to you later that evening in a detailed report. But before this, Andrew will personally take you around all areas of the property, pointing out areas of concern. This ensures that when you receive your building inspection report, there are no surprises. When purchasing a property, an informed decision is a wise decision. That's why our building inspections come highly recommended – we go the extra mile to ensure you have all the crucial information BEFORE you make a huge investment.  
Exterior checks on residential buildings come first
Checking the outside of a building can tell you a lot about the maintenance and construction of the home. Andrew's years of experience can spot what might look like a maintenance issue that can lead to problems. No detail is too minor, and our attention to detail stands out from other inspectors in Brisbane with our fine-tooth comb inspection service.  
The outside of the house is the first area inspected, and it can alert to problems inside.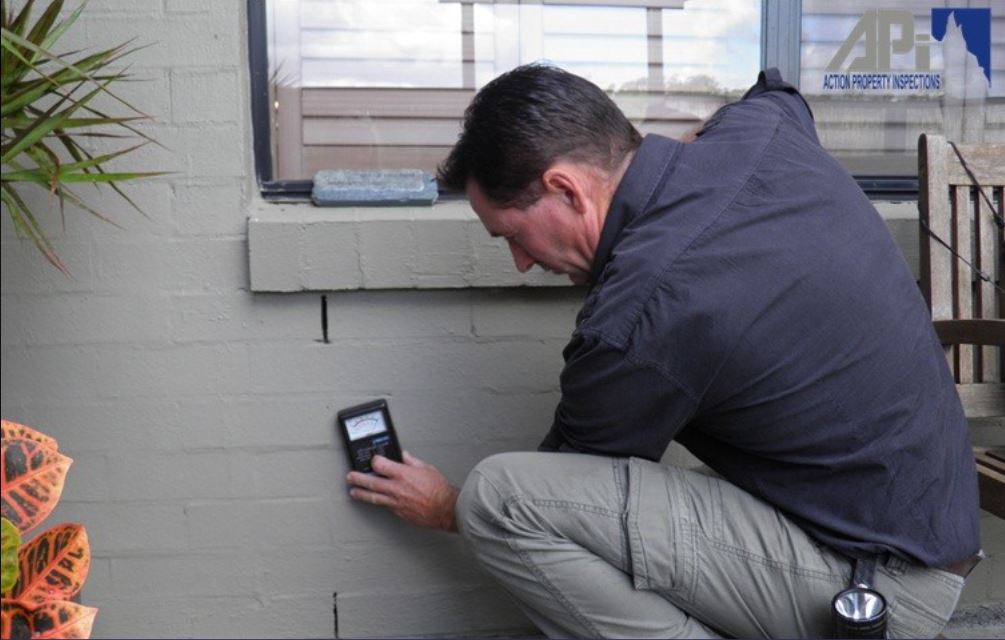 Foundations
Not all Queensland buildings are raised. Concrete footings and concrete slabs can be damaged by poor allotment drainage or poor structural design. Andrew will get down low and look for rising damp and structural cracking signs.  
Paint
Flaky deteriorating paint may look like a visual flaw. Still, many years of experience means Andrew will look past that to see what's hidden. This can indicate dampness in bricks or wood, be hiding rot or cheap paint that will mean a costly repair and repaint.  
Eaves
Sagging or cracked eaves will be detailed in your building inspection report. This can indicate movement, roof damage, lack of maintenance, or water damage.  
Windows
Windows that are not sealed properly and are not compliant with the Queensland building code or Australian standard are noted in the building inspection report. Windows that show signs of decay, rust corrosion and displacement can be indicators of serious issues. As one of Brisbane's most experienced residential building inspectors, Andrew also knows that minor details such as cracked window glass and damaged glazing seals could also prove to be safety hazards.   
Doors
Doors that don't close correctly can indicate building and construction flaws and this could require expensive repairs or alterations later. Subsidence and house movement could involve costly underpinning down the track. 
Brickwork
Ensuring the brickwork is in good condition and without cracks is one of the important issues closely checked by Brisbane building inspectors. Andrew also checks the grout is not chalky or showing signs of dampness or construction issues.  
Outside railing, balconies, and verandas
Do you know all the rules and regulations for balconies and verandas that will keep your family safe and secure? Years of experience and keeping up to date means Andrew knows what meets Australian Standards and what could be an expensive alteration when completing building inspection reports. Although we do not do pest inspections, we can co-ordinate a licensed specialised pest inspector who would carry out the pest inspection at the same time as the building inspection.  
Roofing and upper exterior
Gutters
Lack of maintenance in the gutters can lead to expensive problems. Andrew will get up and check that the gutters are clean. Dirty, full gutters can lead to internal water damage and rust. Andrew will also ensure that roof sheeting, flashings and downpipes are up to Australian Standards and in good condition to ensure that water streams away from the house.  

Tiling and roof distortion
Cracked and missing tiles and waving rooflines are all red flags for expensive issues. Water damage and maintenance neglect are aspects that Andrew will assess and photograph in your detailed report.  
TV antenna
Is the television antenna correctly installed or is it contributing to roof damage? Does it need to be fixed or replaced? Andrew will ensure your first night in front of the TV relaxing in your new home will go smoothly.  
Under the building
Stump and post failure
Many Queensland buildings in Brisbane are raised to avoid flood damage and minor flood issues. However, with recent unpredictable weather in Brisbane, having your stumps and posts inspected is necessary. Posts or stumps that do not meet Australian Standards or that have deteriorated could prove to be dangerous for your family and your budget.  

Movement
The recent floods can cause movement and instability in stumps and posts. Andrew will thoroughly inspect the underside of your potential home to ensure that when you are purchasing a property, you are on a solid foundation.  
Water damage, decay, and rot
Years of experience working and living in Brisbane means Andrew will provide building inspection services that ensure all recent events, such as water damage due to floods, are considered.  
Interior building and construction
Water damage and plumbing
Andrew knows where to look for hidden dangers such as mould and dampness that can lead to health issues. Inspecting wet areas for unreliable drainage, retained moisture and plumbing issues is highly recommended to prevent heartbreaking repairs and costly mistakes.  

Subsiding or sagging walls/floors/ceilings
Any sort of subsidence or distortion is a visual indication of a potentially deeper structural issue. Many issues can cause subsidence and movement.  Rarely is it a cheap fix. Andrew knows the suspected causes through years of experience and can advise on the best course of action.  
Electrical appliances
Where possible, Andrew will turn on electrical appliances to make sure they work and report on any faults or repairs that may be required.  
Inside the roof and up in the ceiling
What makes Action Property Inspections stand out from the crowd for high-quality customer service is the extra step of getting up in the ceiling. Andrew does not just pop his head up through the manhole. Instead, he actively climbs up inside and does a thorough inspection including notes and photos to ensure you know everything there is to make an informed decision.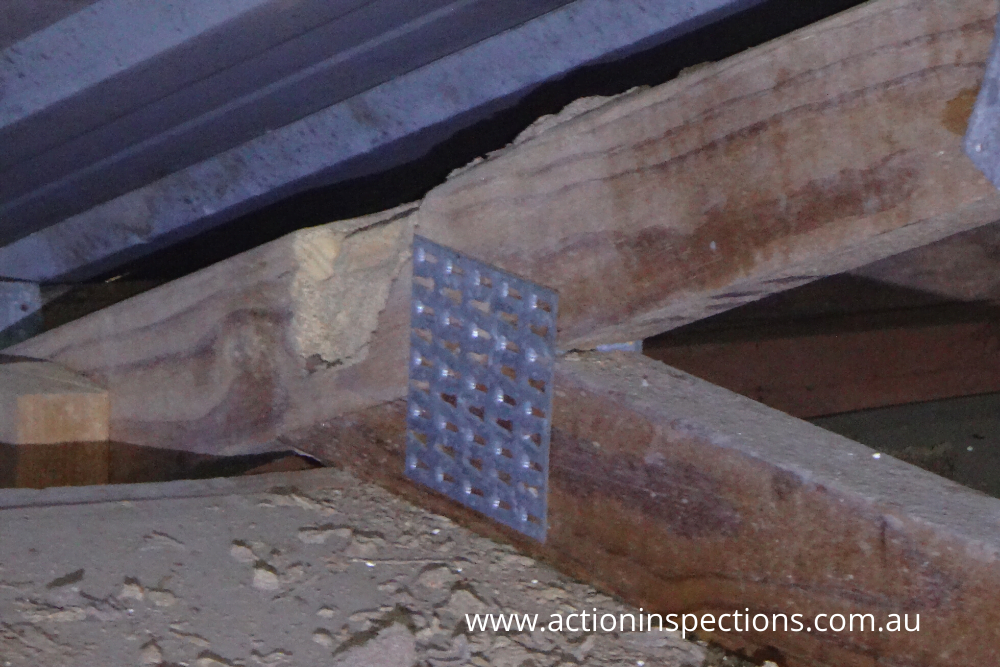 After the building inspection, Andrew will personally take you around the property to point out any areas of concern. It's this level of excellent customer service that allows you to ask questions straight away while looking directly at any issues raised.  
What you can expect after the building inspection
Inspections are time-sensitive, and we know you are excited to get the results. At Action Property Inspections, you will get your highly detailed building inspection reports the same day. Your report usually includes over 100 photos detailing each section of the report and all issues identified. From the fence to the top of the roof and right up to second storey roofing, if it's safe to do so, Andrew will inspect it all. 
Valuing quality over quantity, Action Property Inspections ensure they are not booking and rushing through many inspections a day, instead providing a high-quality service reflected in the over 300 + positive reviews. This allows for same-day detailed reports and gives potential buyers the opportunity to attend the inspection. This allows the inspector to spend time with purchasers and physically take them around and run through the findings.  In addition, Action Property Inspections allocates plenty of time for personalised phone conversations and discussions on reports if the purchaser cannot be onsite.  
While we undertake to inspect and report on the same day, Andrew understands that not everyone has the time to look over and discuss the detailed building inspection reports during business hours. Therefore, in line with our personalised customer-focused service, once you receive your report Andrew is available after hours and at weekends to discuss your concerns and questions without limitation.  
Once you are an Action Property Inspections customer, you are a customer for life. So have a question a few weeks, months or even years down the track, Andrew will happily discuss his findings with you to continue to guide you in looking after your investment for years to come.  
Fully covered by professional indemnity insurance, you can rest assured you are in safe hands, and we are an ethical company with integrity.  
To discuss your residential property inspection needs and concerns,


contact us

to get your highly detailed and highly recommended building
inspection with Action Property Inspections.