Here's What You Need to Know About Water Damage in Brisbane Properties
Water and flood damage is going to be an issue for many more home buyers in Brisbane in the future. If you're looking to buy a property in Brisbane but are worried about water damage, especially after the recent floods, here's what you need to be looking for to avoid a costly mistake.  

Flood Types in Brisbane
Recent floods in 2022 in Brisbane have been unexpected and widespread – and they did a lot of damage. Areas like Deagon in Brisbane's northeast were particularly hard hit, and many properties that hadn't experienced flooding before went under.   
There are 3 types of floods that can be experienced in the Brisbane area: 
Fluvial (river) floods – local rivers and creeks breach their banks and flood neighbouring land;

 

Pluvial (surface and flash) flooding – surface water flooding when urban drainage systems are overwhelmed and there is a gradual rising of water into the streets and flash flooding comprising of high velocity torrents of water caused by torrential rain in a short time period;

 

Coastal (storm surge) flooding – inundation of seawater over land on the coastline, usually caused by intense windstorm events coinciding with high or king tides.  

 
If your dream home falls into one of these flood-affected suburbs, how can you tell if the property was water damaged? What should you be on the lookout for? We've got the answers to all these critical questions!   
Your house may not be in a flood risk area or have been affected by the floods at all. However, floods are not the only reason a house can have obvious or hidden water damage and we are here to help you initially spot and understand the basics of water damage in houses. We'll help you determine what are smaller issues that can be fixed, and which are substantial enough to give you great concern.  

What are the Signs of Flood Water Damage in Houses?
There are several apparent signs of flood damage visible to the untrained eye. These include:  
Mould 

 

Damp smells 

 

Damage to the floors and walls 

 

Uneven floors  

 

Peeling, cracked, or bubbling paint 

 

Damage to the roof 

 

Mud in places it shouldn't be, like in the tracks of doors or high up on walls or ceilings 

 

Water damage in the form of stained ceilings or walls

 

Doors and window frames that appear to have shrunk or are misshapen

 
Can Sellers Obscure Water Damage? What Should I Look For?
If a homeowner is attempting to sell a flood-damaged house, they might resort to crafty methods to pull the wool over the eyes of a potential buyer. A new paint job could cover up rot, mould or damage to the walls or frames, or they could attempt to block access to the damaged areas underneath the house. They might use electric oil burners or scented candles to hide damp smells. If something smells fishy to you, it probably is.   

Is the Home in a Flood Zone?
Check Your Property with the Free Flood Wise Property Report
Do you know if the property you are about to buy is in a flood-prone area?  Before you purchase a property check the  Flood Wise Property Report.  
This report provides anticipated flood levels from river, creek, waterway, storm tide flooding and ground levels for the nominated property. 
The Flood Wise Property Report is provided by the Brisbane City Council.  The information contained in this report is only based on information currently available to Council and such information may not be complete. 
Alternatively, you can contact Andrew at Action Property Inspections if you are concerned your new property may be in one of Brisbane's many suburbs susceptible to flooding. 
What if a House is in a Previous Flood Zone or Danger Zone?
You can check out the Brisbane flood zone map and the Ipswich flood zone map to give you an idea of areas that may flood.  The major flood areas in Brisbane are those suburbs that reside next to the Brisbane River, a creek or are in a low lying area. Here is a list of the major suburbs in Brisbane that flood: 
Acacia Ridge

Albion

Anstead

Archerfield

Auchenflower

Balmoral

Bellbowrie

Bowen Hills

Brisbane City

Brookfield

Bulimba

Chapel Hill

Chelmer

Coopers Plains

Coorparoo

Corinda

Darra

Durack

Dutton Park

East Brisbane

Fairfield

Fig Tree Pocket

Fortitude Valley

Graceville

Greenslopes

Hamilton

Hawthorne

Hemmant

Herston

Highgate Hill

Indooroopilly

Jamboree Heights

Jindalee

Kangaroo Point

Karana Downs

Kelvin Grove

Kenmore

Kenmore Hills

Kholo

Lytton

Middle Park

Milton

Moggill

Moorooka

Morningside

Mount Ommaney

Murarrie

New Farm

Newstead

Norman Park

Oxley

Paddington

Pinjarra Hills

Pinkenba

Pullenvale

Riverhills

Rocklea

Salisbury

Seventeen Mile Rocks

Sherwood

Sinnamon Park

South Brisbane

St Lucia

Sumner

Taringa

Teneriffe

Tennyson

Toowong

Wacol

West End

Westlake

Willawong

Wilston

Windsor

Woolloongabba

Yeerongpilly

Yeronga

 
Inspecting a Previously Flooded Property
When buying a previously flood-inundated house, the primary concern of most clients is how much structural damage the flooding has caused and if the flooding is likely to cause ongoing problems. 
The reality is most flood-affected properties recover quite well. Under normal circumstances, depending on the level of water inundation, all materials vulnerable to moisture damage would have been repaired or replaced. For example, plasterboard wall linings would have been removed. All electrical power points etc would have been replaced. Mouldings and cupboards constructed out of medium density fibreboard (MDF) that have swollen would have been replaced and timber floorboards that have cupped or deteriorated due to moisture swelling would have been repaired or replaced, too.  
However, the structural components of the house are usually very sound without any evidence of structural damage. Where structural damage sometimes occurs is usually when debris coming downstream impacts with the house. Evidence of cracking within masonry walls or subsidence is usually a result of construction issues completely unrelated to the flooding and may have even been in existence prior to the flood.  
If you are prepared to take the risk that flooding may occur in the future and that does not faze you, there is no reason to immediately rule out a house that has been flood affected. However, a building inspection is highly recommended to ensure that all repair works have been satisfactorily completed. 
Obvious and Hidden Water Damage Warning Signs

Subsidence
Imagine walking out your back door to find a giant sinkhole developing in your yard! Perhaps your home is cracking and crumbling before your eyes with unexplained moisture seeping through walls? 
This is a reality for homeowners across Brisbane who have fallen victim to the city's subsidence issues. Subsidence can be devastating to homeowners not only causing emotional distress but significant financial cost. 
In simple terms, subsidence is the downward movement of the land supporting a property or building structure. When the level of movement changes in one area of the structure, cracks and structural interference will occur. 
Subsidence can result from soil compressing due to the weight of the structure, or swelling and contracting from rising levels of moisture. Reactive soils and ground foundations can cause differing levels of movement in homes. 
Flood water can affect the moisture levels and stability in the ground your house is built on and cause obvious signs of subsidence.  
Cracks in your walls are the most obvious sign of structural damage resulting from subsidence. Be sure to look for cracks both internally and externally. Cracks in brick walls in the exterior of your home are a warning sign of structural damage from subsidence. 
Note that not all cracks are serious, but it does pay to keep an eye on cracks in your home which could be an indicator of something more sinister. Windows and doors that stick can also be a result of movement in the structure of the home. 
When you are inspecting a home, take note of leaking drains near the property which can cause the soil and ground to wash away. Anything that causes abnormal moisture conditions should ring alarm bells. 

Landslip
A landslip is also known as a landslide, a slope failure or a 'slump.' It's a phenomenon that occurs where the forces of gravity outweigh the ability of the soil to support its own weight on a sloped surface. Consequently, the soil, boulders, rocks, water, and debris forming the hillside can shear away, tumbling or sliding down the slope. That can happen very suddenly or over many years. 
So how do you find out if a prospective property is in a landslip hazard area? There's no obligation on a vendor to disclose that a property is within a landslip hazard area. You must do the checks yourself as part of your due diligence. 
Geoscience Australia keeps records of landslip activity. You can search for previous landslip activity here. However, you also need to consider the potential for future landslip activity. 


Tidal Inundation
Tidal inundation is a form of coastal flooding that's a risk to properties. Affecting low-lying coastal areas, it occurs when there's an abnormally high tide. 
Coastal areas may also be at risk of flooding due to storm surges; that is, a rise of sea water to a level beyond what's considered normal during a storm or cyclone. These events can cause extensive erosion and undermine the footing or foundations of buildings. Again, there's no obligation on a vendor to disclose flood information in relation to a property, so it's up to you to make your own inquiries and searches. 
Landslips, tidal inundation and filled land pose a significant hazard to infrastructure, buildings, and lives. That's why local councils play a crucial role in monitoring at-risk areas and implementing strategies geared towards mitigating that risk. Crucial to this is your local council's planning scheme and 'overlays'. 
The Additional Costs of Buying a Flood Affected Home
Obviously, buying a house in Brisbane that has previously been inundated with flood waters or has water damage is not ideal. The selling price of flood-affected, water damaged and moisture affected properties tend to drop, often quite significantly, due to the concern people have over the reoccurrence of possible future flooding.  
There will, however, always be a percentage of the public who will not buy in a flood-affected area. So when you go to sell in the future, this could potentially limit your market. So before signing on the dotted line, weigh up the pros and cons of buying in a flood-affected area.  
One other aspect to consider is the cost of insurance. It would be advisable to contact an insurance company regarding your specific house to establish whether you could obtain flood insurance and the cost of such insurance. If the premiums are excessive, then this may be something you will need to consider. 

From Flood to Drought: How Water Damage isn't always Raging Floods
How Drought Can Contribute to Water Damage
The first image that comes to mind when someone hears the word 'drought' is dry, cracked earth. The same concept can happen to your home. Dry soil and cracks are not an ideal foundation for your home, but this is a consequence to properties that live through a drought. 
Drought affects the soil by exposing reactive soil which is not good news for your property. Reactive soil is the exposure of underlying clay pans which become prominent after cycles of flooding, drought, and erosion. 
When soil becomes dry during a drought, it compacts. The moment moisture hits the surface of the ground, the soil expands, and this can 'heave' under the foundations of your house, causing it to move and create cracks in the walls and floors. 


Retaining Walls and Water Damage – Retaining Wall Inspections Are Essential
Role of a Retaining Wall
Whilst retaining walls can have the effect of terracing a piece of land to make it more visually appealing and easier to maintain, they do a lot more than just that. In short, a retaining wall is built to hold back earth or soil and, in some cases, to redirect the water draining down a sloped surface. In doing so, they can assist in preventing landslips or landslides. Retaining walls are often used to carve out a flat area of land from a slope so that the land is made suitable for buildings, roads, driveways, and paths. Retaining walls are often needed where: 
There's been some change made to a slope whereby its natural integrity has been lost, or

 

The slope itself is inherently unstable; for example, it might be made up of loose gravel or rocks.

 
Inadequate or No Drainage of Retaining Wall
A retaining wall should always incorporate an appropriate system of drainage. The drainage system must be sufficient to cope with the water that naturally drains down the slope as its previous path will have been disturbed and cut off by the positioning of the wall. A build-up of water behind a retaining wall causes hydrostatic pressure. That is, water will find the shortest route downhill and can cause erosion. 
A build-up of water can also lead to problems with rising damp and mould if it is near an exterior house wall. In addition, damp conditions can create an ideal conduit for termites in a timber retaining wall. Certain soil types do not cope well with excess moisture, such as reactive clay, which tends to expand when saturated and contract again when dry. This can contribute to movement in the wall and lead to bowing and eventually, collapse. 
All these risks can either be avoided or minimised by the addition of an appropriate system of drainage at the time of design and construction of the retaining wall. In certain circumstances, additional measures such as waterproofing should also be incorporated into a retaining wall. If your conditions are particularly damp, a timber retaining wall may not be as good an option as concrete or a wall built from stone or other materials. Of greatest concern is the rise in DIY retaining walls where the inclusion of any system of drainage has been completely overlooked by the weekend builder. 
Cracking and Subsidence at Retaining Walls
Once a retaining wall has been constructed, allowances should be made for a degree of subsidence or settling of the soil adjacent to the retaining wall. This means that the soil that was disturbed in the building of the wall becomes compacted. Some subsidence is normal. However, there is a point at which subsidence can undermine the structural integrity of your retaining wall, particularly if it makes the ground so uneven that water pools on the surface of the ground above the wall. 
Retaining Wall Danger Signs to Look Out For
Bowing or cracking retaining walls are symptomatic of a serious problem. Similarly, if the height of a retaining wall has become uneven, that may also indicate that the retaining wall has potentially become unstable or is failing. The pooling of water in places along the ground at the top of the wall might also be evidence of something seriously amiss with your retaining wall. 
Not all damage is immediately obvious, especially to the untrained eye. Sometimes special equipment such as moisture detection equipment will be needed to really assess whether the structural integrity of a retaining wall has been compromised. While retaining wall inspections can be conducted by a building inspector, when there is so much at stake, there are instances where an experienced engineer should be called upon to assess the state of your retaining wall and suggest possible solutions. 


Damp Home? Know the Facts: Rising, Lateral, Penetrating or Condensation Damp
Whether it's rising damp, lateral damp, penetrating damp or condensation, damp can be a major issue if not treated quickly. So if you're considering purchasing a property, it pays to look for signs of damp in houses before you decide. 
   
Signs of Rising Damp
Rising damp occurs when water seeps into the walls of your home from the ground up. Look out for:
Tide marks (potentially up to 1m up the interior wall) 

 

Staining or blistered/peeling paintwork 

 

Musty smells 

 

Damaged skirting boards 

 
Signs of Condensation Damp
The amount of moisture in a room can cause condensation damp, especially when the air outside is colder than inside. It's most common in areas where there is a lot of moisture, like the kitchen, laundry, and bathroom.  Look out for: 
Dark mould around windows 

 

Water droplets on windowpanes 

 

Streaking on walls 

 
Signs of Penetrating Damp
Water leaks in the wall or roof are referred to as penetrating damp. It can be caused by leaking roofs, damaged exterior walls, ill-fitted windows and doors, leaking downpipes or internal plumbing, and overflowing gutters etc. Signs of penetrating damp include:
Sudden brown stains on interior walls/ceilings 

 

Wet, crumbly, or bubbly plaster 

 
Lateral Damp
Like rising damp, lateral damp occurs when water penetrates your wall. The causes of lateral damp are damaged wall tanking barriers, garden beds too close to the house and cracked walls etc.   
Treatments for lateral damp are varied and often costly, but left unchecked, can be detrimental to your property's structural integrity. As such, it's best to seek professional advice from a building inspector if suspected.   

Beware of the Red Flags of Under House Drainage Problems
Drainage under house problems can be a red flag indicator for a building inspector when assessing a new property for purchase.   
Any type of drainage issues to a home can require extensive investigation. They can also incur significant costs to rectify. If they aren't fixed in the short term, issues with under house drainage can cause structural damage to the property.   
When a pre-purchase inspection is booked, the builder will be able to assess when the drainage onsite may require further investigation.   
Common Under House Drainage Issues Building Inspectors See
When it comes to drainage under house, a pre-purchase inspection may uncover the following common issues:
Unusual sewer or drain smell in the property 

 

Water marks, stains, and decay under the flooring if visible or accessible underneath  

 

Wet patches or greener grass areas in the front and/or backyard – indicator of stormwater drainage problems.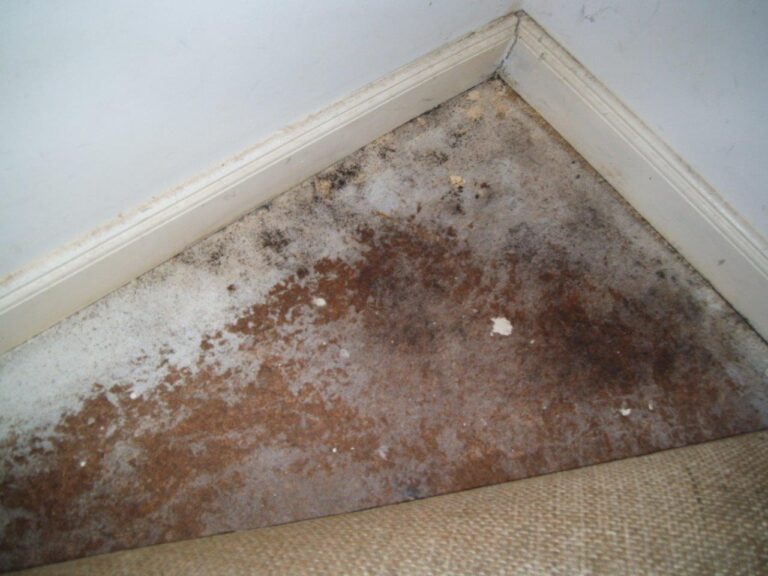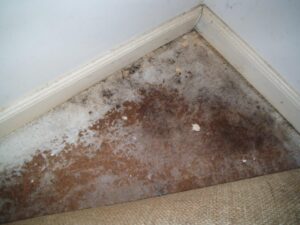 A building inspector is not licensed to diagnose the cause of the drainage issue if there is one at the property. They will recommend a plumbing inspection to further investigate under house drainage issues which could be a red flag for significant problems at the property.  
When to Organise a Plumbing and Drainage Inspection
A drainage inspection will be conducted by a licensed plumber who has the equipment to insert a drain camera down the property's main sewer line.  The drain camera can also be put down a stormwater drain. Not all drainage issues are from the sewer. The drain camera can find tree roots in the pipes, blockages and even cracks which could be causing the drainage issues to the property.   
While it may seem like extra expense for a separate inspection by a plumber, it can give peace of mind to know what rectifications may be needed at the property if you become the new owner.   
Before thinking the worst about a property with a known drainage issue, it's best to diagnose the problem with an inspection from a drainage specialist.   
The most common causes of drainage issues are:  
Blockages – whether from tree roots or foreign objects in the sewer or stormwater lines

 

Broken pipes – which allow tree roots and debris to enter the pipe line

 

Bowed or misaligned pipes – if there is a dip in the pipework or it has misaligned due to subsidence or earth movement, a full excavation and new drainage installation may be required for the repair.

 
A plumbing inspection may also find illegal plumbing connections.  
Issues with drainage under house can mean defects that cause major headaches and cost to the owners to rectify.  It's important to always book a building inspection to identify any red flags which can then be referred to a plumber to investigate further.   
During a pre-purchase building inspection, the inspector does a basic overview of plumbing issues.  This inspection can detect faults the average eye would gloss over during an open home walk through. It should be noted that the building inspector is not a licensed plumber. In all instances, a licensed plumber should be engaged to carry out a pre-purchase plumbing inspection. 


Roof Leaks and Inspections
So after a torrential downpour of rain, you have discovered water stains on your ceiling. A quick examination of your roof shows no obvious faults such as broken tiles or damaged roof pointing. So where did the water come from and why are there roof leaks? 
A steep roof pitch is less likely to suffer from wind driven water penetration than a low pitched roof. In some cases, the main reason the ceiling is showing signs of water penetration will be because the roof is not protected by sarking.  
Sarking is a laminated foil spread across the surface of the roof before the roof battens and tiles are installed. Whilst it does offer minimal thermal protection, it is predominantly installed to prevent water leaks dripping down onto your ceiling. With sarking installed, the water is instead diverted back out to the gutter.  
If your house has sarking but still shows signs of water leakage, it is usually because the sarking has been damaged during construction or whilst undertaking roof repairs. After a quick inspection within the roof space, you will probably discover some torn sections of sarking that simply require taping back up into position to make it watertight. 
What Can Cause Water Damage in Your Roof Cavity
The common causes for water damage to your roof cavity include: 
Inadequate stormwater drainage

 

Broken roof tiles

 

Intense rain or hail storm

 

Rusted roof sheets

 

Rusted or deteriorated flashing around roof penetrations like vents and chimney

 

Burst water pipe

 

Poor weatherproofing

 
An inspection of the roof and gutters, including box and valley gutters, can determine the cause of the water leak. When water finds an orifice in the roof, it can travel inside the cavity causing damage to the ceilings. Sometimes the damage on the ceiling may not be in the same location as the water leak. This is why an inspection is important.  
Parts of the Roof which can be Affected by Water Damage
The ceiling joist and hanging joist are just some of the structural components within the roof cavity which can be affected by water damage. It's important to know what each structure is and how they can be affected if subjected to constant moisture.  
The ceiling joist is the horizontal timber structure which keeps a ceiling fixed. They also support and fix diagonal rafters. The ceiling joist runs from wall to wall horizontally.  
A hanging joist can also be known as a hanging beam and they are run perpendicular to the ceiling joists to join them together. A hanging joist will run across the top of a ceiling joist. 
Strutting beams support the pitched roof loading. They sit between the joists to support the roof struts.  
The joists, hanging beams and strutting beams are necessary parts of the roof cavity. If they are constantly moist due to water leaks, they can succumb to fungal decay, causing serious structural damage to your home.  


What is Concrete Spalling?
Concrete spalling is the deterioration of steel reinforced concrete, often caused by poor allotment drainage or prolonged water exposure. It's especially noteworthy in flood or damp zones near rivers or creeks. It can also be caused by poor construction (steel reinforcement placed too close to the surface) or badly mixed weak concrete.   
In the early stages, concrete spalling is characterised by deep cracks in the concrete. Concrete is strong but porous. As the steel in the concrete is exposed to moisture, it begins to rust and expand, blowing out the concrete into cracks. Once spalling has begun, it's time for restoration and repair.  


Have You Discovered Mould in Your House?
Have you discovered mould at your house? That fuzzy white, black, or even orange stuff can be disgusting and even cause allergies or respiratory issues. If you feel like the growth of mould at your place is a little out of control, never fear! We've got all the information you need about mould causes and how to properly deal with mould in your home. 
What Causes Mould in The House?
Humidity
Living in Queensland, our weather is generally humid for over half of the year. Mould loves this kind of weather – it just thrives in it. After just a few days in a row of rain, you might notice mould starting to grow on walls, benches or on the ceiling because of the heavy, wet air. Living by the coast, this can be even worse, with the even higher humidity making it a recurring problem. 
When the moisture inside your house evaporates into the air, this increases the humidity inside. If your house isn't well ventilated, the humidity will create a perfect breeding ground for mould. Keep your windows open, if possible, to allow the air flow to dissipate any warm humid air. 
Leaking Pipes or Roof
Another common cause of mould growth in a house is water leaking from pipes or from the roof in your home. The worst kind of leaks are the ones that go undetected, like those inside a wall. By the time you notice that a leak has occurred, the mould growth is already out of control. Mould can cause damage to your wall and to your health, so it needs to be cleaned properly. Fixing a leaky roof or plumbing can be expensive, so make sure you call in a professional to assess the damage. 
Condensation
Cold surfaces, such as metal pipes or marble counter tops can create condensation, even if the floors are carpeted over. These are places where condensation collects, making them one of the prime mould causes that's easily overlooked. 
Poor Ventilation
If your home is poorly ventilated, this can create stagnant, moist air pockets which provide the perfect environment for mould. Steam and water evaporating into the air creates humidity inside. Combat this by opening windows and doors and circulating the hot air outside. When poorly ventilated, wet surfaces dry out far more slowly than they otherwise would, especially in rooms like the bathroom and the kitchen, where steam is an everyday part of life. 
Flooding
Obviously, flooding is a huge cause of mould growth in the home. It's inevitable that your home will experience some form of mould growth after being affected by flooding – how can it not after being very wet for days, even weeks, without the ability to properly dry out? Mould only needs 24 hours to grow, and so this poses a huge risk. Dangerous and even toxic moulds are more likely during a flood due to all the various toxins and pollutants in the flood water.  


How to Tell if you have a Leaking Shower Causing Water Damage
Sometimes it's obvious that your shower is leaking. It might happen suddenly, or even dramatically. Tiles might peel off the wall and suddenly crash to the floor. A trickle might run from where the tapware and tiles meet. A sizeable crack could split the surface of the floor of the shower recess. 
More often than not though, a leaking shower can be a ticking time bomb. You might not realise it, but that flaking or peeling paint in your bathroom, that musty smell or that mould growing on the leather shoes in your wardrobe might actually be a symptom of a leaking shower. The damp carpet you blamed on your four-legged friend might be a tell-tale sign that all is not well with your shower. 
These signs can be difficult to spot if you are buying a property. Vendors may make a calculated decision to achieve the best possible price for their property by covering up problems. Discolouration, mouldy, flaking or peeling paintwork can be easily concealed behind a fresh coat of paint. An unpleasant odour can be disguised with a well-timed and liberal spray of air freshener or a strategically-located scented candle. Mouldy silicone can be hastily cut out and fresh silicone squeezed into the underlying gaps in a shower recess.  
Evidence of a leak can be carefully and strategically concealed so as to leave potential buyers in the dark. Always get an expert building inspector to assess your 'dream home' before you invest. 
Causes of Leaking Showers
To the untrained eye, it can be almost impossible to pinpoint the exact cause of a leaking shower. That's because there are so many potential culprits. Just when you think you've found the source of the problem, you might discover that there are a number of causes of the leaks. Finding the cause of a leaking shower should be treated as a process of elimination and an exercise in patience. 
Poor Tapware and Fittings
Some of the obvious causes of a leaking shower can be tracked back to old or poorly-fitted shower fittings or tapware. Sometimes, replacement of these fittings can alleviate or even completely stop a leak. 
Shower Cracks and Gaps
However, there are other causes of a leaking shower that are harder to detect. They include cracked tiles or cracks in the grouting between tiles that develop over time. A subtle, hairline fracture on a fibreglass shower base might open up into something more substantial when you're standing on it but might remain largely invisible to the naked eye when not load-bearing. 
Another common cause of a leaking shower is the separation between the wall tiles and the floor tiles where they meet at the base of the shower. This can be particularly difficult to spot because of its low position, well below eye-level. A gap here can allow water ingress or seepage of the water through to the surfaces below. 
Insufficient Shower Drainage
Blocked or inadequate drainage pipes can also be a factor contributing to your leaking shower. Human hair and soap residue are often the culprits when it comes to shower drainage problems that can overload the pipes and lead to leaks. If blocked drains occur on a regular basis, other parts of the shower that would not normally be subjected to a constant flow of water can be exposed to its damaging effects. 
Vibration and Water Hammer
When you think about it, your shower is used daily, sometimes several times a day. The motion of the water through the pipes and shower fittings and its impact on the floor of the shower causes vibration. You might also hear water hammer; a bang or thump when you turn a tap off. Water hammer is a percussive force caused by a sudden variation in water pressure within a pipe. It can also cause damage over time in much the same way as vibration. Vibration and water hammer can cause things to work loose or to fall apart. It can cause separation between tiles and cracks in the grouting between tiles, resulting in leaks. 

Inadequate or Damaged Waterproof Membrane
Unlike most other areas of your home, the bathroom is considered a 'wet area.' It shares this status with a few other rooms, like parts of the kitchen, the toilet, and the laundry. The design and construction of a wet area and installation of a shower must comply with both the relevant Australian Standard and the Australian Building Code (BCA 2006 and BCA 2012). The Australian Standard applicable to wet areas is AS 3740-2010. Waterproofing your bathroom is critical. Grout itself is a porous substance, so the installation of a waterproof membrane provides an essential backup layer designed to keep water from leaking from a shower. 
A shower will inevitably leak in circumstances where: 
The waterproof membrane was poorly installed, or not installed at all (not unheard of in DIY renovations);

 

The waterproofing has become damaged over time. For example, in older properties where rubber waterproofing may have been utilised, vulcanisation can occur over time and render the waterproofing ineffective. Other types of waterproofing membranes can become damaged, torn, or punctured as a house settles.

 

What is Waterproofing?
Many renovators may not be familiar with waterproofing but it's the most important aspect to protect the home from structural damage should water find its way into places it shouldn't be.   
The first step when building or renovating a bathroom is to have a waterproof barrier installed around the walls and floors. This barrier protects the structure of the property from moisture. The installation of waterproofing must abide by the Australian standards. It's not a DIY project for the unfamiliar.   
Waterproofing Problems
The common waterproofing problems in homes have occurred due to installation or lack-there-of. A leaking bathroom is a certainty. Here are the common waterproofing problems to avoid. 
Not ensuring the waterproofing is applied in the correct sequence of the bathroom renovation. The application is done before walls and floors are laid with their final finish. 

 

Not choosing the correct waterproofing product for the application.

 

Not allowing enough time for the waterproofing to cure.

 

Not installing waterproofing in mandatory areas of the bathroom or at the required heights.

 

Skipping waterproofing altogether. 

 
The best way to avoid these common waterproofing problems is to engage with a licensed and insured waterproofer. They have the experience and knowledge when choosing the correct product and installation for your bathroom type.   
Signs a Bathroom has Bad Waterproofing
The signs a bathroom has had a bad waterproofing application include: 
Dripping of water under a shower or water seepage around wall and floor structures

 

Water damage to timber studs and structures attracting termites

 

Mould and mildew growth inside walls and on floors

 

Squelching or movement of tiles when stood on

 
Beware the Ongoing Cost of Unidentified Water Damage
As  you can see, there are many signs that can point to previous and current water damage in a home.  Some hidden, some obvious and some obvious only to a professional who knows how to identify the signs and what they mean for the property. Choosing a previously flood affected property could mean ever increasing insurance premiums and significant disruption to your life in the future.  "Small" maintenance problems can lead to extensive damage and expensive repairs. A pre-purchase building inspection by Action Property Inspections, as a qualified building inspector with decades of experience in the Brisbane area, is the best protection you can have against unknowingly purchasing a water damaged property.
Stay flood and water wise.
Book your Action Property Inspections building inspector today.
Contact
 us on 07 3201 2666.