Looking to renovate an apartment for profit in Brisbane? We've got all the information you need right here!
In recent times, Brisbane has undergone a slump in apartment sales, and the obvious result, if you can ride it out, is cheaper apartments for sale. If you've found an apartment you'd love to turn a profit on but it needs renovations to bring it up to scratch, there are a few things you need to know about apartments specifically before you proceed. Read on to find out more about renovating apartments for profit in Brisbane!
What you need to know
Compared to single dwellings like houses, multi-unit housing like an apartment offers a whole different set of challenges and opportunities if you're keen to renovate an apartment. Before you even think about setting out, you need to be aware of what's involved.
Firstly, apartments are subject to specialised design and planning regulations with various levels of government. They have stringent demands on things like fire and noise separation, and there can be big issues with privacy and the role of private and common areas. These things need to be inherent in the design of an apartment, and you need to take them into account when renovating.
Secondly, you need to be aware of strata laws. This is where an apartment is managed by a body corporate, which owns certain structural elements, common areas like foyers, carparks and gardens, and services like lifts and lighting in the common areas. They can own everything underneath the coat of paint you have on the walls. If you want to renovate, a body corporate can be a huge hurdle to overcome. You may need to seek approval to do anything at all. It all depends on how conservative the body corporate is. Doing your research into this before you purchase is key.
Third, the fees associated with owning an apartment can be sky high. You've got the added expense of paying the body corporate fees as well as paying for new renovations. If you don't get a pre-purchase property inspection as well, you could be looking at paying to repair all sorts of hidden issues with the property. It pays to do research and consult professionals.
Choosing what to renovate
Your first point of call is to get the basics right – it could save you money in the long run. A good white coat of paint opens up the entire space and gives you a neutral base to work with. Go with an open-plan re-fit if you possibly can, as it will create the illusion of space. A modern kitchen with sleek lines, a glass splashback, new benches and updated cabinets can change the entire look and feel of the apartment. You should also consider updating the bathroom, even if it's just redoing the grout and replacing lighting and tapware. Opting for cosmetic changes rather than structural ones will allow you to turn a bigger profit in Brisbane's market. As always, seek out a pre-purchase property inspection so you know what needs to be repaired, and what you need to renovate. Action Property Inspections offers sample reports which you can peruse.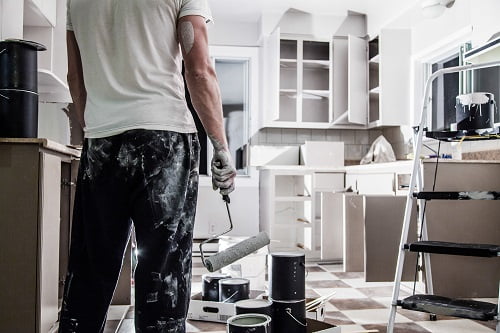 Hiring a renovator
When it comes to choosing a renovator, make a plan and be sure of what your expectations of the renovation are. If you're looking to turn a profit with your newly renovated apartment, you want to stick to a budget while ensuring the space is as updated, fresh, and modern as possible. You also need to request quotes – any good renovation company will offer free quotes, including estimates on how long the renovation will take. You also need to research their credentials by conducting a few Google searches. Finally, ensure that the company you go with has a thorough understanding of body corporate by-laws and is well versed in working within their parameters.
For the best in pre-purchase property inspections, contact Action Property Inspections today!