So you have found the ideal house, however is that beautiful babbling creek in the backyard going to prove to be a major heartache during storm season? Having your pride and joy inundated with floodwaters can be devastating. Before you sign on the dotted line, it is well worth jumping online and doing a flood map search. These flood maps will indicate the location and water levels in flood affected suburbs. These maps predominantly relate to the flood levels of 1974 and 2011. Various other searches will also show up if you are in a tidal surge area. As they say, when buying in a flood area, it is better to be safe than sorry.
Buying a house in a Brisbane flood zone
Obviously buying a house in Brisbane that has previously been inundated with flood waters is not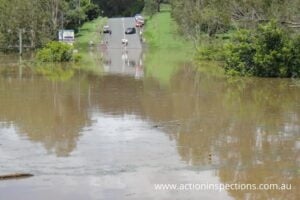 ideal, however in some cases people are willing to take the risk. The view down the river from the balcony may be just too good to turn down. The selling price of flood affected properties tend to drop, often quite significantly due to the concern people have over the reoccurrence of possible future flooding. However, the public seem to have a short memory and these prices seem to bounce back quite quickly as time progresses. There will however always be a percentage of the public who will not buy in a flood affected area. So when you go to sell in the future this could potentially limit your market. So before signing on the dotted line, weigh up the pros and cons of buying in a flood affected area. One other aspect to consider is the cost of insurance. It would be advisable to contact an insurance company regarding your specific house to establish whether flood insurance could be obtained and the cost of such insurance. If the premiums are excessive then this may be something you will need to consider.
Previously flooded houses
When buying a previously flood inundated house the primary concern of most clients is how much structural damage has occurred to the house due to the flooding and will the flooding cause ongoing future confrontations? The reality is most flood affected properties recover quite well. Under normal circumstances, depending on the level of water inundation, all materials vulnerable to moisture damage would have been repaired or replaced. For example, plasterboard wall linings would have been removed. All electrical power points etc would have been replaced. Mouldings and cupboards constructed out of medium density fibreboard (MDF) that have swollen would have been replaced and timber floorboards that have cupped or deteriorated due to moisture swelling would have been repaired or replaced etc. However, the structural components of the house are usually very sound without any evidence of structural damage. Where structural damage sometimes occurs is usually when debris coming downstream impacts with the house. Evidence of cracking within masonry walls or subsidence is usually a result of construction issues completely unrelated to the flooding and may have even been in existence prior to the flood. So in a nutshell, if you are prepared to take the risk that flooding may occur in the future and that does not faze you I would not rule out a house that has been flood affected. I would however always recommend undertaking a building inspection to ensure that all repair works have been satisfactorily completed.