Check for flood water damage before you buy in affected suburbs
If you're looking to buy a property but are worried about water damage from the recent floods, here's what you need to be looking for. 
The recent floods at the end of February 2022 in Brisbane were unexpected and widespread – and they did a lot of damage. Areas like Deagon in Brisbane's north east were particularly hard hit, and a number of properties that hadn't experienced flooding before went under.  
If your dream home falls into one of these flood-affected suburbs, how can you tell if the property was water damaged? What should you be on the lookout for? And should you book a pre-purchase property inspection with Action Property Inspections? We've got the answers to all these important questions!  
What are the signs of flood water damage in houses?
There are several signs of flood damage that can appear in a house. The most common include: 
Stains on the ceilings or walls

 

Swollen and misshapen doors, and door and window frames

 

Mould

 

Damp smells

 

Damage to the floors and walls

 

Uneven floors 

 

Peeling, cracked, or bubbling paint

 

Damage to the roof

 

Mud in places it shouldn't be, like in the tracks of doors or high up on walls or ceilings

 
A building inspector will focus on the foundations of the house as well as its overall structure to ensure there is no cracking or movement. Their inspection will include a detailed examination of the outside of the house as well as the space under the floors, the floors themselves, the ceiling, the insulation, the paintwork, and the roof, where possible. They'll also want to check the plumbing and electrics to ensure the floods haven't destroyed those as well.  
Sellers have a legal requirement to remove any damaged electrical power points or to get any electrical outlets assessed by a licenced electrician, so this is a big red flag. The kind of water damage that can occur in those areas can tell an inspector quite a lot about the amount of flood damage and whether the property is worth your time and money.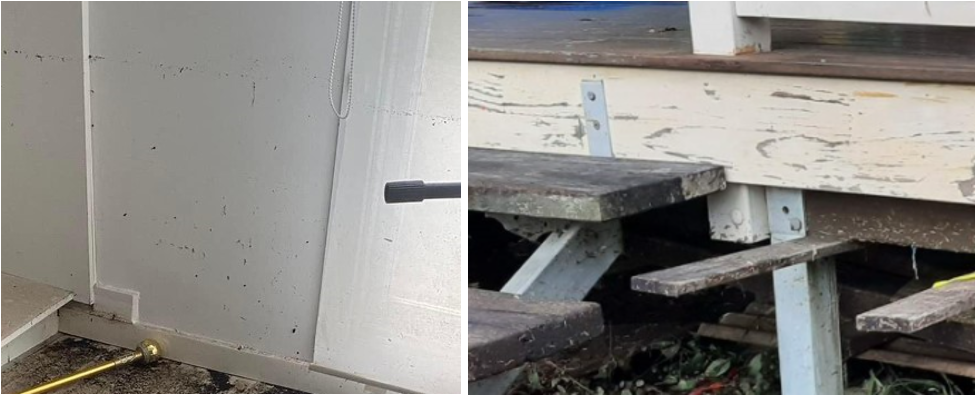 Can water damage be obscured by sellers? What should I look for?
If a home buyer is attempting to sell a flood-damaged house, they might attempt to resort to crafty methods to pull the wool over the eyes of a potential buyer. A new paint job could cover up rot, mould or damage to the walls or frames, or they could attempt to block access to the damaged areas underneath the house. They might use electric oil burners or scented candles to hide damp smells. If something smells fishy to you, it probably is.  
What can a building inspector do?
An independent building inspector is always your best bet when trying to determine how much water damage there might be. Use an inspector with in-depth knowledge of the local area, as they can determine if flooding on the property was likely, and how bad it might have been. Inspectors with this kind of expertise will also know exactly what they're looking for. What inspectors cannot do is remove any walls or see through to any damage that might be hiding underneath. They can advise you on what might be there, or what they can see. They can't magically see through walls.    
What can buyers do to protect themselves?
Luckily, there are several resources available to help you out. Check with the Brisbane City Council's Flood Maps and get a Floodwise Report. These reports provide information about the likelihood of flooding depending on factors like sea level and ground level elevation. If the property you're looking at starts throwing up a lot of red flags, speak to a surveyor.  
Ask the neighbours about how they fared during the recent floods. If their houses have a lot of damage, it's likely the one you're looking at does, too. Are there a lot of houses in the area undergoing renovations, especially being raised on elevated posts? Are there houses that still have mouldy and rotting furniture out the front waiting for a pickup? This is probably a suburb you'll want to avoid.  
Finally, call insurance companies and ask for quotes for insuring the property against flood damage. If the quotes seem particularly high, it's probably because there have been previous claims. It seems so simple, and yet it's very effective in determining whether a property is prone to flooding.  
To book your Action Property Inspections building inspector,


contact
us today on 07 3201 2666 and stay flood wise!