There are many options for metal roof cladding to suit your house or building, from the earliest colonial houses with corrugated iron, through to modern architectural homes utilising Colorbond and Zincalume roof sheeting with profiles such as trim deck and custom orb etc. The variety is vast and so are the complications if not installed correctly.
Roof pitch
One of the common problems seen on a regular basis is the use of the wrong type of roof sheeting used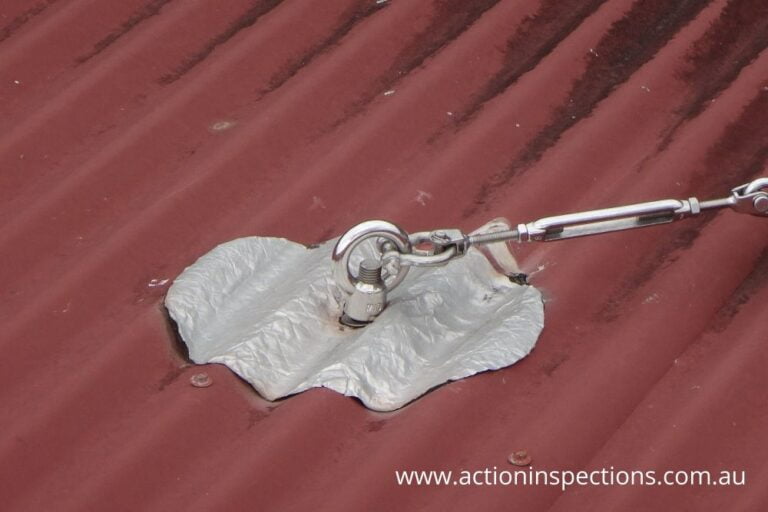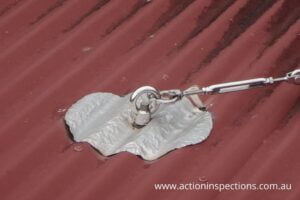 on a low pitched roof. For example on a recent building inspection in the Brisbane suburb of Carina, a previous building inspector noted that the roof sheeting was in good condition however there was some evidence of minor roof leaks. When I went out to undertake the reinspection it was clearly evident that the wrong roof sheeting had been installed in this situation. The entire rear extension had been covered with corrugated Zincalume roof sheeting. As this particular roof was of a near flat roof design most builders would have utilised clip lock roof sheeting or similar with its high ridge profiles and its ability to be modified easily to provide a waterproof seal. Whilst the Zincalume roof sheeting was in good condition it was clearly not suitable in this application. Unfortunately time and time again we see the standard corrugated roof profile used in low pitch roof designs showing the ever present signs of internal water leakage.
Over tighten screws
Another common problem is where the home renovator is overzealous in screwing down the roof sheets, distorting and splitting the washers under the head of the screw and in some cases actually distorting the roof sheeting, subsequently contributing to future water leaks.
Galvanic corrosion
When you have installed roof sheeting is imperative that you use the correct flashing to prevent what is known as galvanic corrosion. Not all metals are compatible. If you install two incompatible metals corrosion will result. On a recent inspection in the Brisbane suburb of Chermside substantial corrosion was noted to the roof sheeting where they used lead flashing under the gables. Lead cannot be used on a Zincalume roof as it will cause premature corrosion.
Scratched paint finish
Quite often during the construction of the house scratches occur within the metal roof sheeting.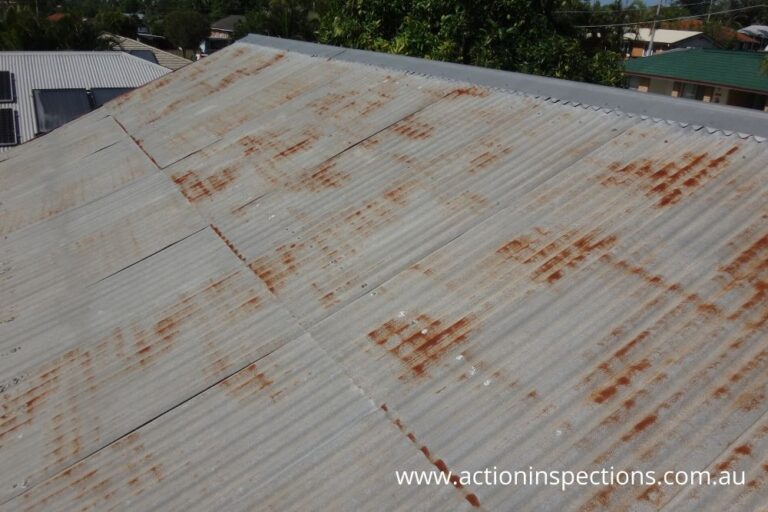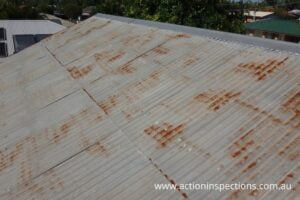 Ideally these scratches need to be touched up to help prevent premature corrosion. A paint pen ideally supplied by the Manufacturer of the roof sheeting in an identical colour is a good way of touching up minor scratches. Some manufacturers supply aerosol paints for touch ups however with the progression of time areas patched with aerosol paint tends to fade much quicker than the original paint. This leads to very unsightly patches on the roof. Some scratches during construction are inevitable however with a little care the level of damage should be minimal.
Walking on the roof
Many homeowners will jump on their roof to retrieve the kid's football or to clean out the gutters. Unfortunately, sometimes they are inadvertently causing damage to their metal roof. Walking in the centre of a corrugated roof sheet particularly a thin gauge roof sheet can cause buckling and even cracking of the metal that could contribute to roof leaks. On a Klip Lok roof, walking on the flat of the roof sheet can stretch the metal creating slight hollows that hold water after rain periods. Retained moisture on the roof sheeting promotes corrosion and eventually excessive corrosion can lead to rust penetration holes and further water leaks. Learning where it is safe to walk on a metal roof will help prevent future damage.
These are just a few of the common faults we detected with a metal roof while undertaking inspections in the Brisbane area. Have Action Property Inspections inspect your roof prior to making your next house purchase.