There's so much to love about living in the old mining city of Ipswich and surrounding suburbs in West Brisbane. The area is less than an hour's drive from the centre of Brisbane and boasts many heritage buildings, a growing café culture, open spaces, and a fun, family-friendly culture. However, if you're looking to buy into the area, it pays to do your research. Properties are highly sought after, but the region lies in the Brisbane flood zone and buyers should check the Ipswich Flood Map to consider all their options.
Up-and-coming Ipswich and surrounds
Historically a working-class mining town, Ipswich has grown into a thriving city that is perfectly situated between Brisbane and the beaches. This year, a new government defence contract has helped bring new life to the region, opening up many new defence jobs and opportunities to service the growing population.
Ipswich and surrounding areas like Ripley Valley, Richlands and Heathwood have been especially welcoming for young families who are moving from other parts of Brisbane to buy their own homes in value-for-money areas. These towns are an easy commute back to Brisbane, with the improved train system bringing more frequent services to the city, and additional lanes on the Ipswich motorway making the drive reasonable.
Many Ipswich families have one or both parents commuting into Brisbane on a full or part-time basis, although the MILVEHCOE (military vehicle centre of excellence) facility at Redbank will certainly entice them to stay on and work in Ipswich. Defence is already a key industry for the City of Ipswich, providing more than 7000 jobs in the area.
Careful buying is key
The growing popularity of West Brisbane means it's tempting to leap in and purchase an investment property to capitalise on potential rental returns, or even buy your 'forever home' for the family. Certainly, the region has been tipped to offer solid medium to long-term returns.
New housing has quickly been snapped up and the housing market can barely keep up with supply. It's resulted in a pleasant mix of older-style Queenslander homes with an abundance of character, and new, comfortable homes that are purpose-built for modern family life.
Proximity to good local services and schools is a key consideration when considering which suburb to buy in. Ipswich boasts WestMAC (West Moreland Anglican School), Ipswich Girls' Grammar and Ipswich Grammar, which are all highly sought-after private high schools, and St Mary's is a popular Catholic primary school. Public schools that are highly regarded are Springfield Central State High, Bremer State High and Ipswich State High. For primary students, Ipswich Central and Woodlinks State are both popular choices.
How to read the Ipswich Flood Map
Long term prospects and educational offerings aren't the only risk assessments you should carry out when buying property in West Brisbane. The area is part of the Brisbane flood zone, so checking prospective properties against the Ipswich Flood Map should be mandatory for all buyers.
The Ipswich Flood Map is an historical record of the floods of 1974 and 2011. The map tracks the flood levels of both of these historical flood events as a way of assessing the likelihood of an area flooding again.
The Ipswich Flood Map acknowledges that the information it supplies isn't the only reason a property might flood: overland flow, burst pipes, an overflowing artificial lake or dam can all produce floodwater that can affect any area. It also cautions that just because an area did not flood in 1974 or 2011, it doesn't mean that it won't be affected by future flood events.
Keying in a property address will bring up a property specific flood report that will tell you whether the property was or wasn't known to be affected by the 1974 or 2011 floods.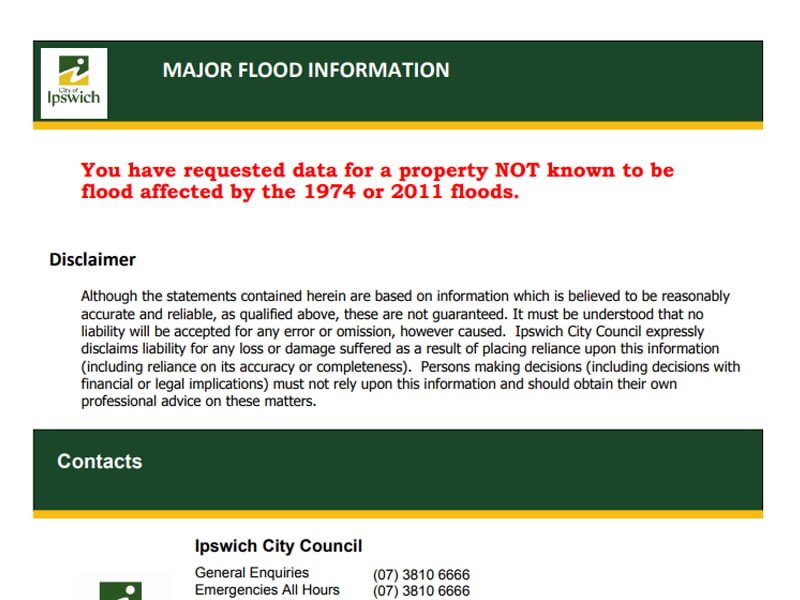 You can also view and print a major flood information map, specific to the area where your property address is located. This map shows in green the location of the waters of the flood event of 2011, and in blue the location of the waters of the flood event of 1974 (the more impactful flood).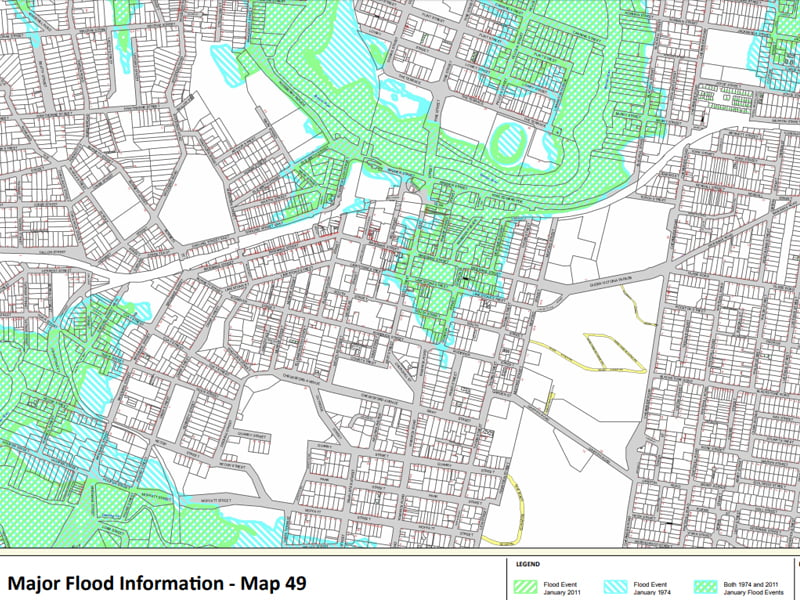 What to do if your dream home is in a flood zone
Discovering that the home you really love is in a flood zone isn't a deal breaker. However, there are some very important steps you need to take before and after purchasing.
If you're considering buying in a known flood event area, it's critical that you book an independent house inspection. A house that has been flooded in the past may show signs of flood damage or they may be well hidden. An independent building inspector will know what to look for and can provide you with critical information about the home's health status (mould or rising damp can make a home a health risk) and structural stability.
If you decide to go ahead with the purchase following the independent house inspector's report, you can further secure your property against flood. Homes set high above the known flood water level have potentially lower risk. Consider raising your home if it falls below flood level. Read more about protecting your home here.
Enjoy everything the area has to offer
Now that we've covered the importance of knowing what you're buying into, it's important to remind you that West Brisbane suburbs like Ipswich are top areas to soothe your worries. Places like The River Heart Parklands is a good reminder that the Bremer River isn't just a source of occasional floodwaters. In addition, the thriving café culture that has sprung up to cater for the new Ipswich is enough to remind you to let "flood waters be dammed."
The top end of Brisbane Street even boasts a Melbourne-style laneway that has really lifted the cool-factor. It's packed with cafes, vintage stores and op shops. Rafter & Rose in Ellenborough Street is loved for breakfast; Forty West on Amity Way hosts themed dinner nights; and the eccentric 116 Laneway is especially popular for a lazy brunch. Add cinemas, open park spaces, excellent sporting facilities and beautiful bushland – there's enough here to provide all the escapism you need.
This buzzing, multicultural area of West Brisbane is more than ready to welcome new property owners. Know your risks by using tools like the Ipswich Flood Map, and do what you can to address and minimise your exposure. Then you can contentedly enjoy the easy going, family-friendly lifestyle this relaxed area has to offer for many years to come.
Where to get information when it starts to flood
If you do buy in the South East Queensland, make yourself familiar with your local council's Disaster Dashboard which contains a lot of helpful information like which areas are currently under flood threat, where to find sandbags, what to do in the case of a flood emergency and more.  In the case of a storm or flood emergency you should call State Emergency Services (SES) 132 500 or log a SES request online.
Brisbane City Council Disaster Dashboard
Ipswich City Council Disaster Dashboard
Logan City Council Disaster Dashboard
Considering a property purchase in Ipswich?
Call Action Property Inspections.